Shrimp and Pine Nut Spaghetti – This recipe is best for when you have no idea what to cook. You can have Shrimp and Pine Nut Spaghetti using 13 ingredients and 3 steps. Here is how you cook it.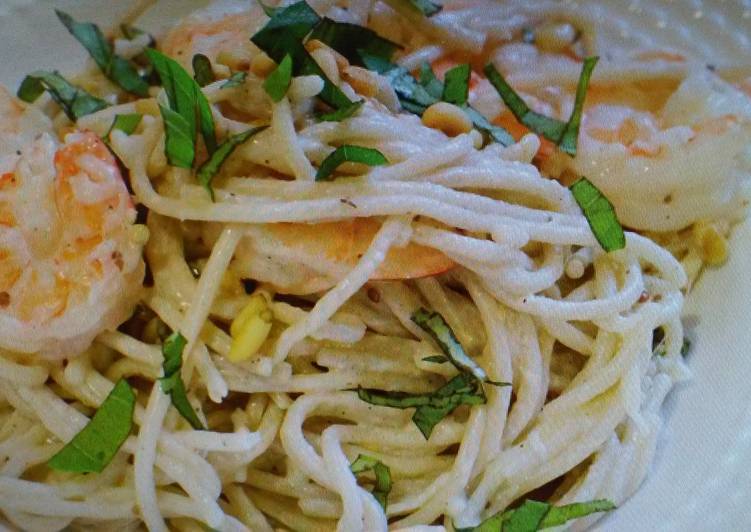 Ingredients of Shrimp and Pine Nut Spaghetti
You need 8 oz of uncooked spaghetti.
Prepare 12 oz of peeled and deveined medium shrimp.
Prepare 2 tbsp of pine nuts.
It's 1 cup of 1% low fat milk, divided.
Prepare 1 tbsp of all-purpose flour.
You need 1/2 tsp of dijon mustard.
It's 1/4 tsp of ground nutmeg.
It's 1/4 tsp of salt.
It's 1/4 tsp of ground black pepper.
It's 1/2 cup of grated parmesan cheese.
It's 1/3 cup of finely chopped fresh basil.
It's 1/4 cup of torn fresh basil leaves.
You need 3/4 cup of pesto (optional) instead of 1/3 cup chopped basil.
Shrimp and Pine Nut Spaghetti Instructions
Bring 4 qts water to a boil in a large saucepan. Add pasta and cook 7 minutes. Add shrimp to pan, cook 3 minutes or until shrimp are done and pasta is al dente. Drain, keep warm.
While pasta cooks, heat a small nonstick skillet on medium heat. Add nuts to pan and cook 2 minutes or til golden brown.
Combine 1/2 cup milk and flour in a saucepan, whisking until well blended. Place pan on medium heat and gradually stir in remaining milk. Stir in mustard and nutmeg. Bring to a boil then reduce heat to medium- low, and cook 5 minutes or until mixture begins to thicken; stirring constantly. Stir in S&P; cook 1 minute. Add pasta and shrimp, cheese and chopped basil, tossing gently to combine. Sprinkle with nuts and torn basil.