Shrimp in coconut sauce (Kerala style yellow shrimp Curry) – This recipe is perfect for when you have no idea what to cook. You can cook Shrimp in coconut sauce (Kerala style yellow shrimp Curry) using 17 ingredients and 7 steps. Here is how you cook that.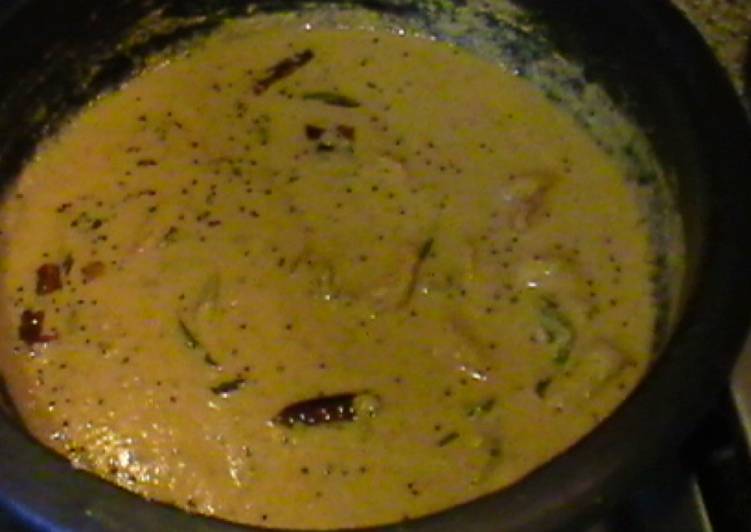 Ingredients of Shrimp in coconut sauce (Kerala style yellow shrimp Curry)
It's 1/2 lb of shrimp peeled  fresh raw small or medium size (about 15-20 medium size).
You need 1 cup of plantain drumsticks raw (green) thinly sliced or.
You need 1 inch of cut into pieces (Optional).
It's 3 – 5 of green chillies fresh   slit (use 3 if you want mild, 5 if you want hot).
Prepare 1/2 tsp of red chilli powder (use 1/4 tsp if you want it really mild).
Prepare 1/2 tsp of turmeric powder.
Prepare 1   1/2 tsps of salt.
You need 2 – 3 of small pieces of  kodampuli   (soaked in  1 tbsp hot water for about 10 minutes).
You need 1/2 cup of water.
Prepare 1 cup of coconut freshly grated (or fresh frozen grated).
Prepare 1 tbsp of red onions chopped.
You need 1 cup of water warm.
You need 1 tbsp of coconut oil.
It's 1 tsp of mustard seeds.
It's one sprig of curry leaves fresh.
It's 1 tbsp of red onions finely minced.
You need 2 of chillies medium-sized dried red (torn in half).
Shrimp in coconut sauce (Kerala style yellow shrimp Curry) Step By Step
De-vein the shrimp and wash it nicely in cold water and place it in a  nice medium size deep pot or vessel.
To this pot, add the  cut plantains or the drumstick pieces(if adding), green chillies, red chilli powder, turmeric, kodampuli (with the soaked water), salt and about 1/2 cup water.
Keep this pot  on the stove and once the water starts to boil, lower the heat to medium and  cover the pan.  Let it cook for about 5-7 minutes. Put the stove off and set aside.
Now take the grated coconut – If you are using frozen grated coconut, thaw it first, either keeping it at room temperature  for about an hour or  by warming in a microwave oven for 30 seconds.  Grind the coconut  finely in a food processor or a blender with the 1 cup warm water along with the onions. The finer the texture of the ground coconut, the more delicious this curry will taste.
Add the  ground coconut paste to the cooked shrimp in the pot.  Place on stove again and turn heat to low and allow the mixture inthe pot to simmer for about 2 minutes on medium flame.  Do not let the coconut mixture boil. Then turn off the heat and keep aside.
Lastly, take a small pan for doing the final tadka (oil garnish) and heat the coconut oil in it till you get the aroma. Then add the mustard seeds. When they start spluttering, add the red onions and  as they begin t turn golden brown, add the curry leaves and the dried red chillies. Wait for 30 seconds and turn off the heat. Add this oil mixture on top of the shrimp and coconut curry.
Serve with steamed parboiled rice and / brown rice.