Spicy Shrimp and Potatoes – This recipe is great for when you have no idea what to cook. You can have Spicy Shrimp and Potatoes using 18 ingredients and 12 steps. Here is how you achieve that.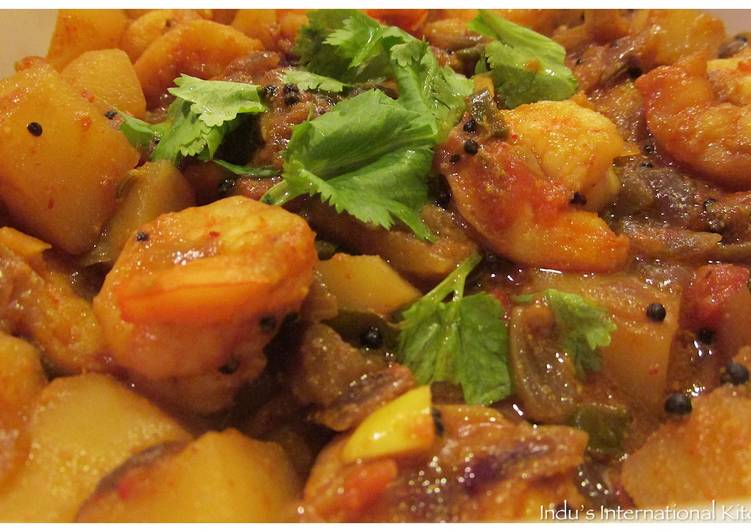 Ingredients of Spicy Shrimp and Potatoes
You need 1 lb of shrimp Ingredients: peeled raw medium size (fresh or frozen).
Prepare 1 tbsp of coconut oil (or olive oil).
It's 1 tsp of mustard seeds.
It's 1 of onion medium size  red  – chopped fine.
It's 1 of tomato medium size  ripe.
You need 1 tsp of ginger fresh –chopped  finely.
You need 1 tsp of garlic fresh – chopped  finely.
It's 2 of green chillies fresh –slit  length-wise.
You need a sprig of curry leaves (3 or 4 leaves) fresh.
It's 1 small 1/2 inch of potato small – peeled and cut into cubes.
You need 1 tsp of salt.
It's ½ tsp of red chilli powder (use 1/4 tsp if you would like it mild).
It's ¼ tsp or a pinch of turmeric of powder.
It's 1 tsp of coriander powder.
Prepare 1/2 cup of water of.
You need ½ tsp of garam masala powder.
Prepare ¼ tsp of fennel powder(optional).
You need of cilantro fresh leaves for garnish (optional).
Spicy Shrimp and Potatoes Step By Step
De-vein the shrimp and wash it well in cold water and dab it dry.
Heat a  kadai or a  wok style pan  and add  the oil.
When the oil gets hot (about 2 minutes), add mustard seeds.
As the mustard seeds start to splutter, add the red onions and sauté them in high heat continuously stirring them in the pan  so as not to burn them.
As the onions turn soft and golden brown, add the minced garlic, ginger, green chillies and the curry leaves.
Turn heat to medium  and stir for a bout a minute.
Now add the chopped tomatoes and  salt and continue to stir until the tomatoes turn soft (about 3 to 4 mins)
Next add the red chilli powder, the  turmeric powder, the coriander powder and the garam masala powder. Stir  continually  and add a  spoonful of water so that these spices don't burn.  Stir for about 30 seconds  till  the spices get roasted well.
Now add the potatoes and cover and cook for about 2-3 minutes till the potatoes are about half-cooked. Then add the shrimp and  again stir well so that shrimp get nicely coated with all the spices. Cover with a lid and cook for about 5 minutes.
Now open the lid and add the 1/2 cup of water and  again cover and cook for about 2-3 minutes till the potatoes are cooked.
Finally, add  the fennel powder and garam masala (if adding) and stir and turn the heat off. Garnish with  fresh and finely chopped cilantro leaves.
Serve hot with plain rice and daal.