Roasted Squash & Apple Soup – This recipe is fantastic for when you have no idea what to cook. You can have Roasted Squash & Apple Soup using 11 ingredients and 4 steps. Here is how you cook it.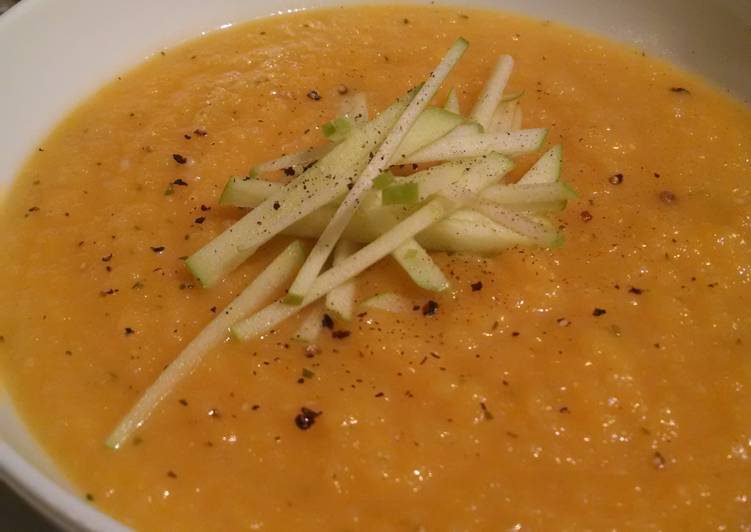 Ingredients of Roasted Squash & Apple Soup
It's 1 1/2 lb of butternut squash, peeled, seeded and cut into 1-inch cubes.
You need 3 tbsp of olive oil, divided.
It's 1 tbsp of sugar.
Prepare 1 medium of onion, diced.
Prepare 1 clove of garlic, minced.
It's 2 of tart apples such as Granny Smith or Pink Lady, peeled, cored and cut into 1-inch cubes, plus 1 small apple for optional garnish.
It's 1 tbsp of fresh thyme.
It's 1 quart of low-sodium chicken or veggie broth.
Prepare 1 tsp of salt.
Prepare 1 of Freshly ground black pepper.
It's 1/2 cup of toasted pumpkin seeds.
Roasted Squash & Apple Soup Step By Step
Preheat oven to 400°F. Toss cubed squash with 1 Tbsp olive oil and sugar and spread out in a single layer on a sheet pan. Roast for 20–30 minutes or until tender and beginning to brown, gently stirring halfway through roasting. Set aside.
In a medium pot, heat 2 Tbsp olive oil over medium high heat. Add onion and garlic and sauté 4–6 minutes or until softened. Add apples and thyme and sauté 5 minutes more. Add broth and 1 cup water and bring to a boil. Reduce to a simmer and cook 10–15 minutes or until apples are tender. Stir in roasted squash to combine.
Puree soup in batches in a food processor or blender until very smooth. If soup is too thick, add additional water until desired consistency is reached. Return to pan and season with sugar and salt.
Divide between bowls and garnish with thinly sliced apple, pepper and pumpkin seeds.