Mom's Shrimp Casserole – This recipe is great for when you have no idea what to cook. You can cook Mom's Shrimp Casserole using 12 ingredients and 8 steps. Here is how you achieve it.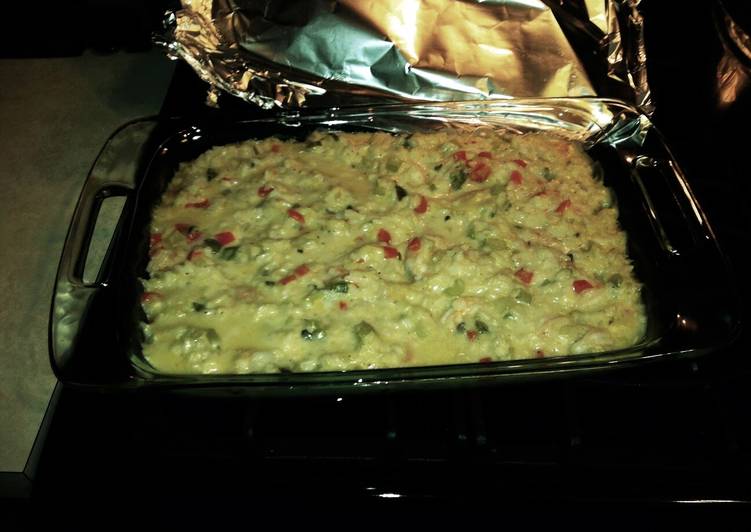 Ingredients of Mom's Shrimp Casserole
Prepare of shrimp casserole.
Prepare 2 cup of precooked white or brown rice.
It's 1 cup of chopped red bell pepper.
Prepare 1 cup of chopped celery.
You need 1 cup of chopped onion.
It's 1/3 cup of butter.
You need 1 of family size can cream of mushroom soup.
You need 8 oz of shredded swiss cheese, best to get from deli and just slice and dice yourself.
Prepare 8 oz of fresh shredded cheddar cheese.
Prepare 1/2 tsp of black pepper.
You need 1 tsp of salt.
Prepare 25 large of cleaned, deveined tail off fresh shrimp.
Mom's Shrimp Casserole Instructions
In large pot over medium heat cook onions, celery and peppers in butter until tender. About 3-5 minutes.
Remove vegetables and set aside. In same pan, cook shrimp until they turn pink and just a touch undercooked.
In a large bowl combine cooked vegetables, creamed soup, rice, salt and pepper, swiss cheese and half of cheddar. Mix well.
Place in a very lightly greased 9" by 13" baking tray.
Now place shrimp throughput baking tray nestling into rice mixture making sure they are pushed down to be covered.
Bake covered 30 minutes in a preheated 375°F oven. After 30 minutes remove cover, add the other half of cheese and bake uncovered for 5 minutes.
Serve with wedges of fresh lemon.
This is Taylor68too mom's recipe. Cover photo by mom too!