Mike's EZ Cajun Shrimp Creole – This recipe is fantastic for when you have no idea what to cook. You can cook Mike's EZ Cajun Shrimp Creole using 18 ingredients and 8 steps. Here is how you achieve that.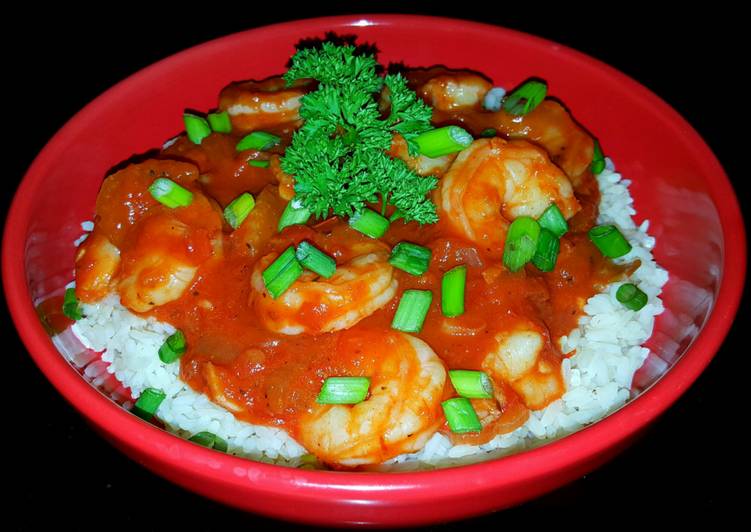 Ingredients of Mike's EZ Cajun Shrimp Creole
It's 2 Pounds of LG Pre-Steamed Shrimp [shells or tails left on].
Prepare 1 of Ex LG White Onion [chopped].
It's 3 of LG Stalks Celery [chopped – with leaves].
It's 1 of Green Bell Pepper [chopped].
It's 6 Cloves of Garlic [minced].
Prepare 1/3 Cup of Green Onions [chopped + reserves].
It's 1 (28 oz) of Can Hunts Pureed Tomatoes.
You need 1 tbs of Worshestershire Sauce.
It's 3 tbs of Louisiana Hot Sauce [i use much, much more. as do my students].
Prepare 1 tsp of Cayenne Pepper.
Prepare 1 of LG Bay Leaf.
It's to taste of Fresh Ground Black Pepper.
It's 2 tbs of Olive Oil.
Prepare 1 tbs of Creole Cajun Seasoning [such as Tony Chachere's – i use more].
Prepare 2 Cups of Seafood Stock.
Prepare 1 tsp of Dried Thyme.
You need 4 tbs of Hunts Tomato Paste.
Prepare as needed of White Rice [minute or success rice works well in a pinch].
Mike's EZ Cajun Shrimp Creole Step By Step
Dethaw your pre-steamed shrimp.
Make your own seafood stock. Reserve any shrimp fluids from your dethawed shrimp bag and gently pull the tails from your shrimp. Place all the shells and tails and fluids in a pot with 2.5 cups of water. Boil for 15 minutes. Strain and reserve all stock.
Brine your shrimp in ice water with 2 tbs salt and 1 tbs sugar for 15 minutes in fridge. Yes, you can brine pre-steamed shrimp! :0)
While waiting, chop your vegetables. Add oil to pot and cook vegetables until they're translucent. Usually about 5 minutes. Not too long tho. You'll want some crisp to your veggies!
Add your herbs, seasonings, tomato puree and paste plus, 1 cup seafood stock to pot. Mix well. Simmer down for 10 minutes or until your sauce thickens a bit. You'll want your sauce to be hearty and viscous enough to support your plump shrimp. But, thin enough to saturate your rice. If too thick, add additional seafood stock. In the end, if you want your sauce thicker – mix 2 tbs corn starch to 1 tbs water. Mix well and slowly add this slurry to your boiling sauce. It'll thicken up as it simmers so go slow.
Drain your shrimp [remove ice] and place shrimp in your simmering pot. Simmer only until shrimp are hot or, your sauce has returned to a simmer. Remember, your shrimp are already pre-steamed and you don't want to over cook them.
Boil your rice. Use whatever seafood stock you have left for that boil to season your rice.
Serve hot – over white rice. Garnish dish with green onions and parsley. Serve with additional Louisiana Hot Sauce. Enjoy my friends!