Thai-ish Omelette Rice – This recipe is perfect for when you have no idea what to cook. You can have Thai-ish Omelette Rice using 12 ingredients and 9 steps. Here is how you cook that.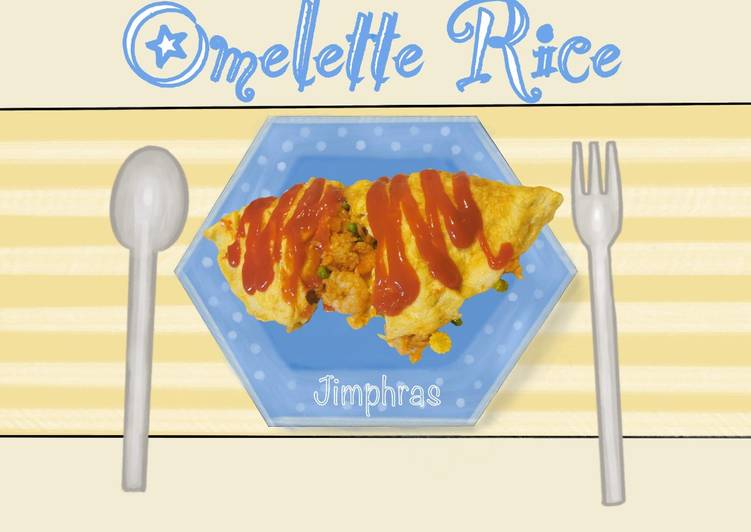 Ingredients of Thai-ish Omelette Rice
Prepare 400 of g- Rice, day-old, more dry rice is always better as we're making fried rice, you can use freshly cooked rice but it'll probably get super soggy when adding the wet ingredients.
Prepare 2 of tbsp- Ketchup, we are making ketchup fried rice after all, also save some in the bottle for after.
Prepare 1 of tbpn- Oyster Sauce, I use this brilliant sauce for all my fried rice dishes it just adds a deeper flavour than soy sauce in my opinion (use sparingly).
Prepare 4 of Cloves- Garlic, I love garlic so I use quite a lot but you can use 2 for a more subtle flavour.
You need 1 of – Small Onion.
You need 1 of – Carrot or use 3-4 carrot sticks if you're feeling lazy.
Prepare 1/2 of cup- Frozen Peas, I think people measure peas in cups.
Prepare 6 of – Baby Sweetcorn if you can't find any, tinned sweetcorn is also fine, use half a small tin.
You need 200 of g- Prawns, peeled already cooked prawns are fine.
It's 1 of tsp- White pepper.
Prepare 6 of tsp- Oil, 3tsp for the rice and 3tsp for the omelette.
It's 2 of – eggs per person if you're making individual omelettes, if not use 3 for a thicker omelette.
Thai-ish Omelette Rice Step By Step
1. Firstly we will start by crushing and mincing garlic and halving an onion and finely chopping then put those 2 into a bowl.
2. Now Peel and finely chop the carrot making sure they're roughly the same size as the onion then chop up the baby corn.
3. We've done the prep and now to start cooking! On a med/high heat pour your oil into a pan along with the onion and garlic and cook until onions are translucent.
4. Once the onions are translucent pour in the carrots, baby corn, frozen peas and the pepper and continue frying until peas are defrosted and heating up.
5. When the peas have defrosted put in the prawns and rice, break up the rice a bit as day-old rice with just come out as a solid mass.
6. After the rice has broken up a bit add the Oyster sauce and Ketchup and mix it all in until the rice has gone a red-ish brown colour and the fried rice is done pour into a dish and now it's time for the eggs.
7. In a med/high heat pan pour in some oil, add the eggs and move them around forming curds like a French omelette, that's what you do for a french omelette right? Now just as the omelette starts solidifying add some of the rice to one half of the omelette(unless you're making a massive omelette rice then use it all.) The runny bits of egg will mix with the rice making it rich and lovely.
8. Once the rice is in slowly fold over the omelette like a quesadilla then slowly tuck the egg into the omelette. Don't try to be a hero and flip it unless you're sure it can be done, I tried it in the video I made and absolutely fudged it up.
9. Once folded in and the omelette is browning put onto a plate pour ketchup on top and we're done!