Shrimp & Cauliflower "Grits" – This recipe is great for when you have no idea what to cook. You can have Shrimp & Cauliflower "Grits" using 11 ingredients and 7 steps. Here is how you cook that.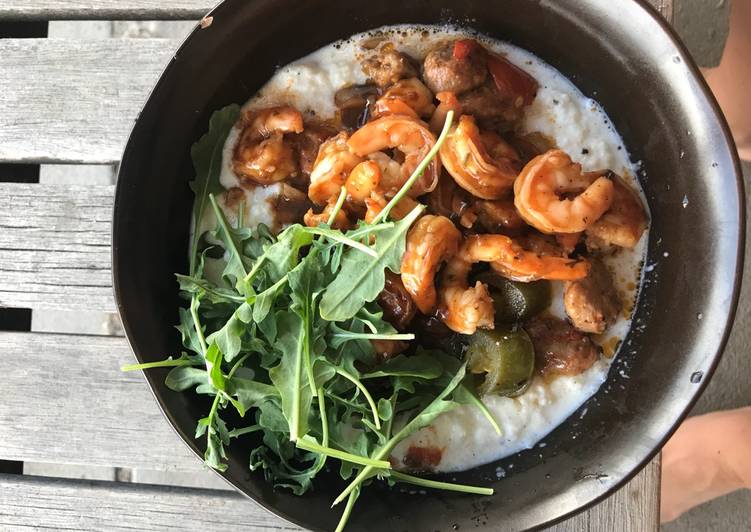 Ingredients of Shrimp & Cauliflower "Grits"
You need 1 package of riced cauliflower (frozen or room temperature) – or, if you're fancy, make your own damn cauliflower rice.
It's 2 tbsp of chicken, vegetable broth or water.
You need 2 tbsp of butter.
It's 1 splash of half & half, milk or cream (optional).
You need of Thumb to finger of whatever cheese is on hand (cheddar, parm, mozzarella all work).
You need 12-16 of cooked shrimp (enough for two people) – I use Costco's cilantro lime shrimp.
Prepare 1/4 cup of BBQ sauce.
You need 1.5 of hot italian sausages.
You need of Small sauté of mushrooms, tomatoes + onions.
You need of Jalapeños (optional).
Prepare of Arugula or other garnish.
Shrimp & Cauliflower "Grits" Instructions
Cut hot sausage into circles, sauté with mushrooms and tomatoes. Cover and keep warm.
Heat up broth in skillet on medium. Use skillet you can pour into a blender from.
Add package of riced cauliflower to broth. Cook, while stirring for 2-4 minutes, 'til soft.
Pour cauliflower into blender. Add butter or half and half (optional, but yummy). Pulse ONCE, check consistency. Pulse once more if needed.
Return contents of blender to pan, add cheese and desired spices (salt, pepper, garlic powder).
Sauté shrimp in BBQ sauce til warm.
Plate. Add cauliflower grits to bowl, top with hot sausage and veggie mixture, then shrimp. Garnish with jalapeños, arugula and cracked pepper.