Shrimp macaroni and cheese – This recipe is great for when you have no idea what to cook. You can have Shrimp macaroni and cheese using 19 ingredients and 7 steps. Here is how you cook it.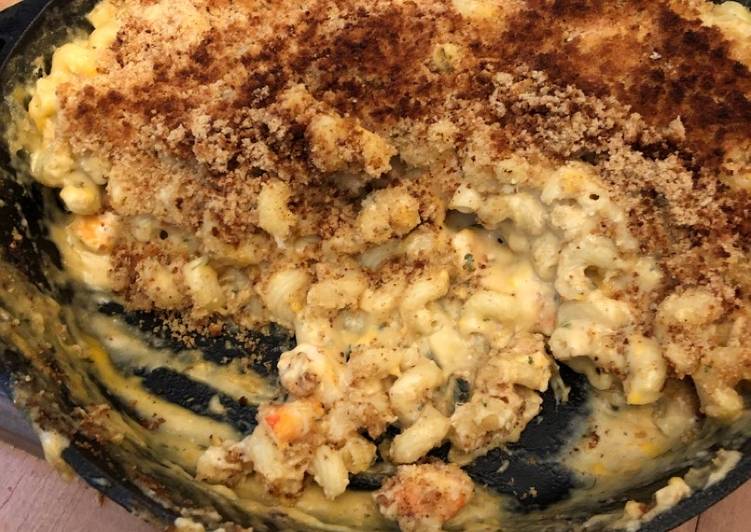 Ingredients of Shrimp macaroni and cheese
Prepare 1 lb of uncooked shrimp, peeled and deveined.
It's 1 tablespoon of butter.
It's 1 tablespoon of olive oil.
You need of Macaroni and cheese.
Prepare 1 lb of cellentani pasta.
It's 4 tablespoons of butter.
Prepare 1/2 cup of all-purpose flour.
You need 3 cups of milk.
You need 1 tablespoon of cornstarch.
It's 1 tablespoon of onion powder.
You need 1 tablespoon of garlic powder.
You need 1 tablespoon of parsley flakes.
It's 1/2 teaspoon of salt.
It's 2 cups of grated extra sharp cheddar cheese.
Prepare 2 cups of grated Monterrey jack cheese.
It's of Topping.
Prepare 1/4 cup of grated Parmesan cheese.
It's 3/4 cup of Panko breadcrumbs.
It's 3 tablespoons of melted butter.
Shrimp macaroni and cheese Instructions
Cook pasta according to package directions, strain, rinse in cold water, and set aside.
Melt 1 tablespoon butter with 1 tablespoon olive oil in a large (oven proof) iron skillet on medium-high heat. Add shrimp in an even layer and cook 2-3 minutes, flip over, and continue to cook 2-3 minutes or until cooked through. Remove shrimp to a cutting board. When cool enough to handle, cut into halves. Set aside.
While shrimp are cooking, preheat oven to 350.
Keep the drippings in the skillet and melt 4 tablespoons butter over medium heat, then whisk in the flour. Cook, while stirring for 2 minutes. Turn heat to low then gradually whisk in milk. Whisk in cornstarch and remaining seasoning.
Simmer, whisking constantly until thickened (but not overly thick). Whisk in cheddar, then Monterrey jack. Add shrimp and pasta and stir until evenly coated.
Spread pasta into an even layer and top with Parmesan. Whisk Panko with melted butter and evenly sprinkle on top. Bake 15-20 minutes or until hot and bubbly. Turn oven to broil to toast Panko for 3-5 minutes, watching closely so it doesn't burn.
Let stand 5 minutes before serving.