Shrimp & Artichoke Pesto Pasta – This recipe is best for when you have no idea what to cook. You can cook Shrimp & Artichoke Pesto Pasta using 12 ingredients and 3 steps. Here is how you cook that.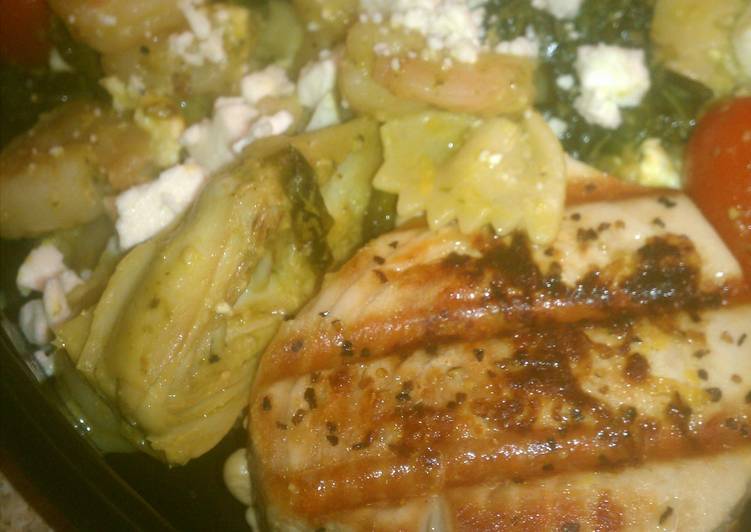 Ingredients of Shrimp & Artichoke Pesto Pasta
You need 12 oz of shrimp, peeled & deveined.
Prepare 1 bunch of kale, chopped.
It's 1 can of artichoke hearts, cut in halves.
Prepare 2 cup of uncooked pasta.
It's 1 tbsp of garlic, minced.
Prepare 1 tsp of lemon zest.
You need 1 cup of grape tomatoes.
You need 1/2 cup of feta.
Prepare 6 tbsp of pesto.
Prepare 4 tbsp of pasta water.
It's 2 tbsp of milk.
It's 1 tbsp of olive oil, extra virgin.
Shrimp & Artichoke Pesto Pasta Step By Step
Cook pasta according to directions. Drain and set aside. Prep the kale and artichokes while pasta cooks.
Heat olive oil over medium high heat. Saute the kale and garlic until it begins to wilt. Add artichokes cut side down.
Once artichokes have browned slightly, add the shrimp. Cook until shrimp starts to turn opaque. Add tomatoes, pesto, pasta water and milk. Toss to combine and cook until tomatoes start to open, about 5 more mins. Top with feta and serve!