Bacon and Shrimp Alfredo #Pasta – This recipe is great for when you have no idea what to cook. You can cook Bacon and Shrimp Alfredo #Pasta using 10 ingredients and 9 steps. Here is how you achieve it.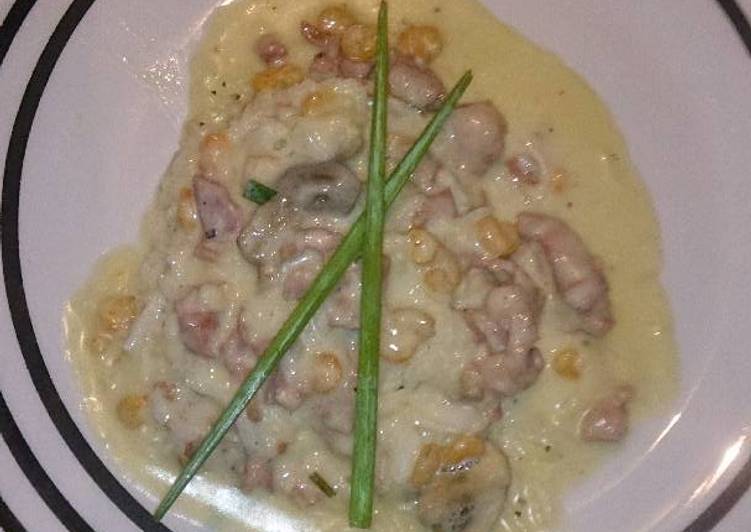 Ingredients of Bacon and Shrimp Alfredo #Pasta
You need 200 grams of penne pasta.
Prepare 200 ml of cream.
It's 50 grams of mascarpone cheese.
It's 5 grams of garlic chives.
You need 2 tablespoons of butter.
Prepare to taste of salt and black pepper.
Prepare 250 grams of sliced white mushrooms.
Prepare 250 grams of thawed baby shrimp (de-veined and de-shelled).
Prepare 200 grams of diced bacon.
Prepare 250 ml of milk.
Bacon and Shrimp Alfredo #Pasta Instructions
Cook the pasta and set aside
With no butter or oil or anything add the bacon into a pan and fry until golden crispy. It will cook in its own fat
Remove the bacon from the pan and set aside. In the same pan, add a little butter and the thawed shrimp and fry the shrimp adding a little salt and pepper.
In a separate pan, add the cream, butter, mascarpone cheese, and milk and bring to a slow slow boil.
If the white sauce is a little thin to increase the thickness, add small amounts of flour and whisk in until your reach the preferred thickness.
On a very very low heat, add the mushroom to the sauce and close the lid. Stir occasionally but keep the lid on. The mushroom will shrink and the flavour will go into the cream.
Add the garlic chives to the sauce and stir in
Then add the shrimp/bacon mix to the cream and stir continuously.
Re-warm the pasta if you need to and serve!