Spicy Shrimp Sweet Potato Boat and Avocado Crema – This recipe is great for when you have no idea what to cook. You can have Spicy Shrimp Sweet Potato Boat and Avocado Crema using 12 ingredients and 7 steps. Here is how you achieve it.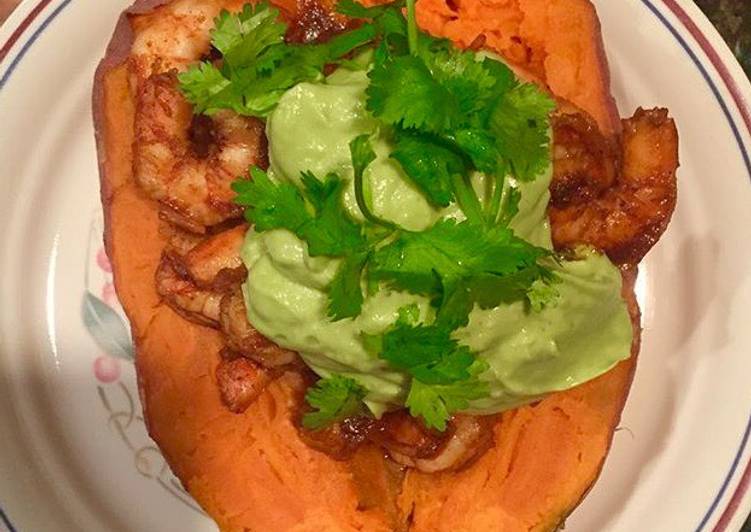 Ingredients of Spicy Shrimp Sweet Potato Boat and Avocado Crema
It's 1/2 lb. of shrimp, peeled – I usually buy shrimp frozen, raw, deveined, with the tails still on. Thaw in a strainer under cool water, remove the tails, and spread out over paper towels to pat dry.
Prepare 1 Tbsp of olive oil.
Prepare 1 Tbsp of chili flakes.
It's 1 tsp of garlic powder.
Prepare 1 tsp of sea salt.
It's 1/4 tsp of black pepper.
Prepare 1 of avocado.
You need 1 Tbsp of coconut milk (any other milk may work).
It's 1/4 tsp of fresh lime juice.
You need 2 of medium sweet potatoes.
You need 3/4 cup of Cilantro, chopped and divided.
Prepare of Lime wedges to garnish.
Spicy Shrimp Sweet Potato Boat and Avocado Crema Step By Step
Preheat oven to 375 degrees. Wash sweet potatoes, cut them into halves and place on a baking tray. Brush with a bit of oil, season with salt and pepper then roast in the oven for about 30-40 minutes.
If you are short on time, skip step 1, poke the potatoes with a fork a few times and microwave for 10-15 minutes, until tender.
Once cooked, remove and allow to cool a bit. Then gently scoop out the center leaving a medium size layer of flesh inside.
Meanwhile; make the avocado cream. In a food processor, combine avocado with milk, lime juice, 1/2 cup cilantro, a pinch of salt and pulse until very smooth.
Heat a large skillet with 1 tbsp of oil over medium heat and add shrimp, garlic, chilli flakes and a pinch of salt.
Cook the shrimp on both sides until opaque, about 3-4 minutes.
To assemble, place the shrimp in the sweet potato boats, top with avocado cream, garnish with remaining cilantro and serve!