Roasted butternut squash soup with feta – This recipe is best for when you have no idea what to cook. You can have Roasted butternut squash soup with feta using 11 ingredients and 9 steps. Here is how you achieve it.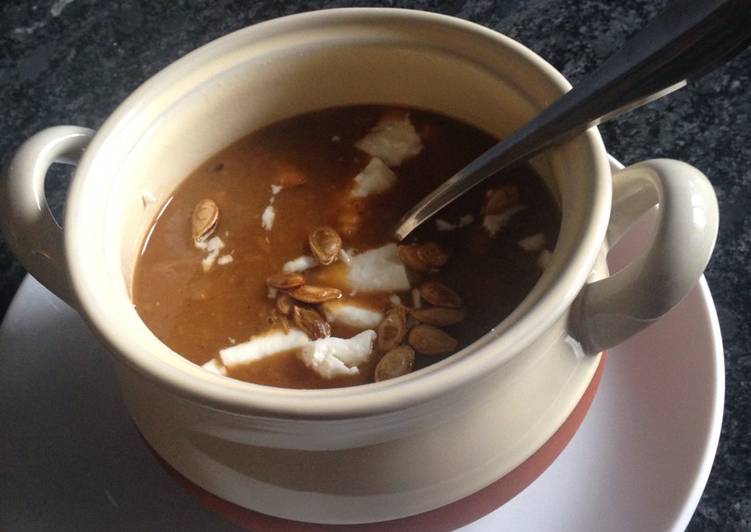 Ingredients of Roasted butternut squash soup with feta
Prepare 1 of large butternut squash.
Prepare 2 of potatoes.
It's 1 of onion.
It's of Fry light spray.
It's 1 teaspoon of chilli.
You need 1 teaspoon of fennel seeds (optional).
You need 1 tablespoon of tomato ketchup.
Prepare 1 of garlic clove.
Prepare of Salt and pepper.
You need 1 pint of veg stock made with stock cube.
Prepare 1 of little crumbed feta.
Roasted butternut squash soup with feta Instructions
Peel and chop squash, onion and garlic.
Keep squash seeds to one side.
Place all veg on a baking tray and roast with a few squirts of fry light for 30 mins on 180.
Place seeds on a separate tray and roast.
After 30 mins add roasted mixture to a saucepan. Chop the potatoes and add to saucepan with spices. Salt and pepper and stock. Fennel etc. Bring to boil then simmer until potatoes cooked. Add more water if too thick. Blitz with a food mixer.
Add ketchup.
Stir and simmer for a few more mins.
Pour into warmed bowls. Sprinkle feta and toasted seeds over the top.
Enjoy!!