Shrimp and Corn Chowder – This recipe is fantastic for when you have no idea what to cook. You can have Shrimp and Corn Chowder using 10 ingredients and 6 steps. Here is how you achieve that.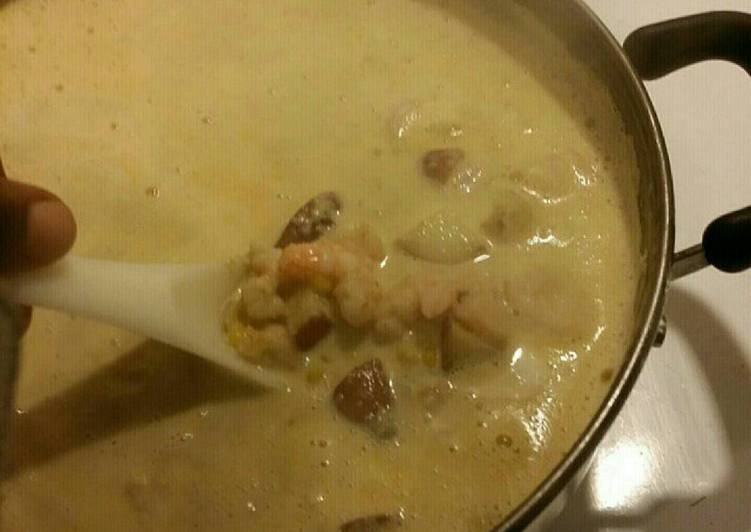 Ingredients of Shrimp and Corn Chowder
It's 6-8 of small, red potatoes, cubed.
You need 1 of large onion, chopped.
It's 1 pint of heavy whipping cream.
You need 1 of container (48 oz) chicken stock (low sodium is okay).
Prepare 1-2 lb of peeled, raw shrimp, each cut in half.
You need 1 tbsp of parsley flakes.
You need 1/2 stick of butter.
You need 2 tbsp of crab boil seasoning.
Prepare 1 of container (16oz) lump crab meat (optional).
It's 2 cans of drained corn kernels, or one large bag of frozen kernels.
Shrimp and Corn Chowder Step By Step
In a large pot, melt your butter on medium heat and add your cubed potatoes and chopped onion. Sauté on low/medium heat for approximately 15 minutes.
Add chicken stock, crab boil seasoning and bring to a boil. Add your corn.
Reduce heat back to medium/low and add entire pint of heavy whipping cream, stirring until fully mixed. Simmer on low heat for about 10 minutes, making sure your heat is not so high that it sticks.
And your shrimp last. If you're feeling adventurous, also add a 16 oz. container of lump crab meat.
Allow your chowder to cook on a low heat for about 15 minutes.
Garnish with parsley flakes and serve in small bowls.