Quick & Easy Stir- fry Ramen – This recipe is best for when you have no idea what to cook. You can cook Quick & Easy Stir- fry Ramen using 13 ingredients and 16 steps. Here is how you achieve it.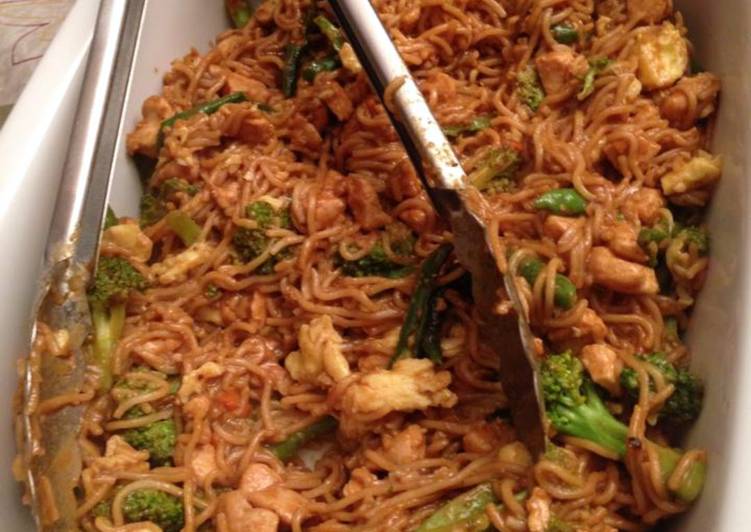 Ingredients of Quick & Easy Stir- fry Ramen
It's 3 packages of ramen.
It's 3 envelope of of ramen spice that comes with it.
You need 1/2 packages of frozen or fresh shrimps, deveined.
Prepare 2 of chicken breasts chopped into small square pieces.
You need 3 of eggs.
You need 1/2 packages of of frozen or fresh broccolis.
It's 6 of green chillies sliced lengthwise.
It's 1 clove of garlice chopped.
It's 2 small of onions sliced thinly.
It's 3 tbsp of low-sodium soy sauce.
You need 1 of Sesame oil.
Prepare 1/2 tsp of lime juice.
Prepare 1 of Freshly ground black pepper.
Quick & Easy Stir- fry Ramen Instructions
Heat oil in large skillet and fry the chicken pieces
Add shrimp and fry until meat turns opaque
Set chicken and shrimp aside
Add more oil in the skillet and fry broccoli and chillies until slightly tender (make sure it retains its crunch)
Boil the ramen
Soak the boiled ramen in ice cold water so that it doesn't get mushy
Fry the onions and garlic until tender
Add drained boiled ramen to the onions and garlic
Add chicken and shrimps
Sprinkle the spices from the envelope
Beat eggs and pour over the ramen
Add soy sauce and mix well
Add the broccoli in the end
Pour lime juice and toss
Add pepper, mix well and serve
Happy feasting!