Curry Chicken Noodle Soup – This recipe is perfect for when you have no idea what to cook. You can have Curry Chicken Noodle Soup using 26 ingredients and 8 steps. Here is how you achieve it.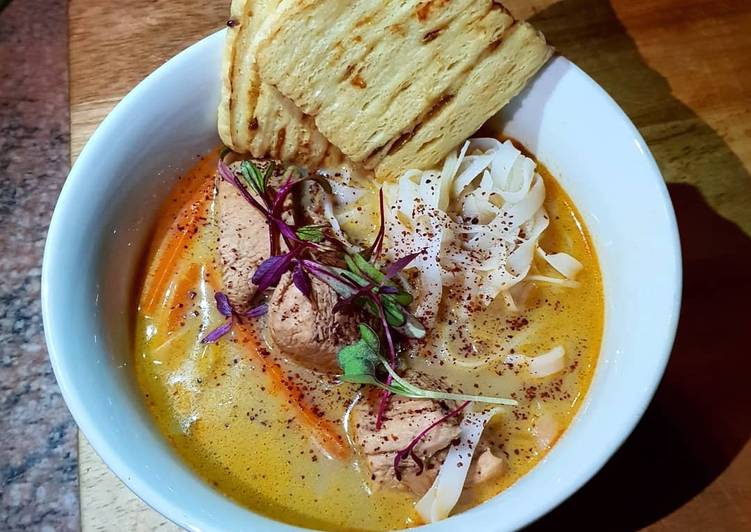 Ingredients of Curry Chicken Noodle Soup
Prepare of For the chicken.
It's 680 g of boneless chicken breast, cubed.
It's 2 tablespoons of olive oil.
Prepare 1 tablespoon of lemon juice.
It's 1 tablespoon of chicken spice.
It's to taste of Salt.
It's to taste of Pepper.
It's of For the soup.
Prepare of Chicken, cooked.
Prepare 1 tablespoon of coconut oil.
Prepare 1 of onion, sliced thinly.
Prepare 1 tablespoon of fresh ginger, grated.
You need 2 teaspoons of garlic, crushed.
Prepare 2 tablespoons of masala mix.
You need 6 cups of boiling water.
Prepare 1 of chicken stock cube.
You need 2 of carrots, sliced thinly.
You need 1 of red pepper, sliced thinly.
You need 400 milliliter of coconut cream.
It's 230 g of rice noodles.
It's to taste of Salt.
Prepare to taste of Pepper.
It's of For the garnish.
You need of Carmelised onion squares from Woolworths.
Prepare leaf of Micro crimson.
It's of Sumac spice.
Curry Chicken Noodle Soup Instructions
For the chicken. Heat a frying pan with the olive oil, add the chicken cubes and brown on all sides.
Add spices and lemon juice, sauté until cooked through. Set aside.
For the soup. In a soup pot on medium heat, melt the coconut oil and add the onions, ginger, and garlic. Sauté 4 – 5 minutes, stirring occasionally.
Add masala mix and sauté for 2 – 3 minutes, be careful not to burn the spice. Add the boiling water, stock cube, and cooked chicken, let simmer until the stock cube has completely dissolved.
Once the stock cube has dissolved, add the coconut cream, carrots and red pepper. Bring the soup to a boil and simmer for 10 minutes, or until carrots are cooked.
In the meantime bring water to a boil in a separate pot. Add the rice noodles and cook for 6 minutes, remove from heat and immediately place the noodles in cold water to prevent further cooking.
Strain the noodles and add to the soup, season to taste, and serve.
Garnish with sumac spice and micro herbs. Serve with carmelised onion squares or any savory treat and enjoy!