Filet Mignon w/ Bacon-wrapped Shrimp over Spiced Bok Choy – This recipe is great for when you have no idea what to cook. You can have Filet Mignon w/ Bacon-wrapped Shrimp over Spiced Bok Choy using 26 ingredients and 10 steps. Here is how you cook that.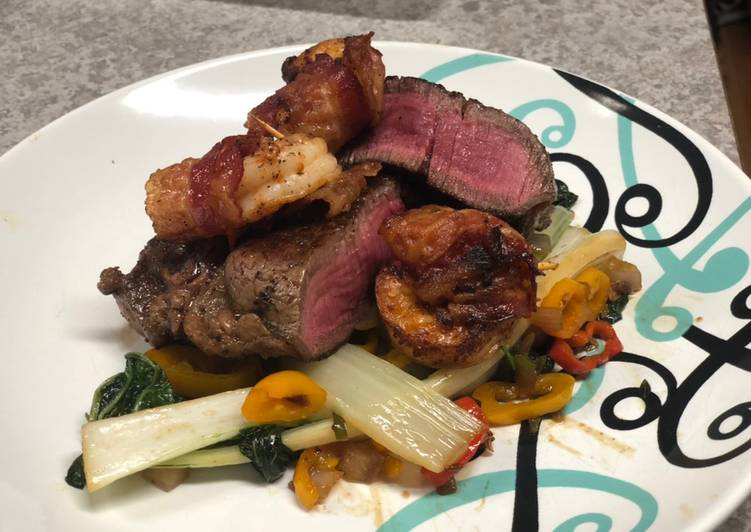 Ingredients of Filet Mignon w/ Bacon-wrapped Shrimp over Spiced Bok Choy
It's of Steak.
It's 4 (14 oz) of Filet Mignon.
It's 4 tbsp of Olive Oil.
It's 2 Cloves of Garlic.
It's 4 of Thyme.
Prepare 4 tbsp of Butter, unsalted.
Prepare of Salt and Pepper.
It's of Bacon Wrapped Shrimp.
You need 14 of Shrimp, peeled and deveined.
You need 14 Slices of Bacon.
Prepare 1.5 tbsp of Smoked Paprika.
Prepare 2 tbsp of Olive Oil.
You need of Salt and Pepper.
It's of Spiced Bok Choy.
Prepare 1 lb of baby bok choy.
Prepare 1 tbsp of canola oil.
It's 1 tbsp of minced ginger.
It's 2 cloves of garlic, minced.
Prepare 3 tbsp of oyster sauce.
It's 2 tbsp of Beef Broth.
You need 6 of sweet pepper, sliced.
It's 2 of jalapeños, sliced.
It's 1 of poblano pepper, sliced.
You need 1/8 of cp green onion.
It's 1/2 of red onion, diced.
It's 1/8 of cp cilantro, chopped.
Filet Mignon w/ Bacon-wrapped Shrimp over Spiced Bok Choy Instructions
Preheat oven to 400°. In a large skillet over medium-high heat, heat oil. Season steak with salt and pepper on both sides. When oil is just about to smoke, add steak. Cook until very seared, about 5 minutes, then flip and add butter and thyme. Baste with butter and cook another 5 minutes.
Transfer skillet to oven and cook until cooked to your liking, about 5 minutes for medium rare. Remove from pan and let rest 5 minutes before slicing.
Pat shrimp dry with a paper towel. Mix paprika, salt, and pepper together and season both sides of shrimp. Wrap half cooked bacon around shrimp and hold it with half toothpicks. In a skillet with medium heat. Add oil. Sauté until nice golden brown (about 3min) and flip over. Continue to sauté. Remove from heat and set aside.
Trim the ends of the bok choy. Wash, pat dry with paper towels, and then set aside.
Heat a large skillet or wok over medium heat. Add the oil, and then add the garlic and ginger. Cook for 1-2 minutes, or until soft, and then add the bok choy. Cook for 1 minute, or until the bok choy just starts to wilt.
Stir in the oyster sauce, beef broth, and peppers, onions, cilantro, and green onion (reserve 1/4 green onion for garnish) and cook for about 1 minute or until heated through.
Plating:
Place Spiced Bok Choy on bottom. Cut filet in half or in slices. Remove toothpicks and too with bacon wrapped shrimp. Garnish with remaining green onion.
(Half cut is shown at Medium Rare; Slices shown are Rare)
Serve and Enjoy!