Simple Butternut Squash Soup – This recipe is perfect for when you have no idea what to cook. You can cook Simple Butternut Squash Soup using 6 ingredients and 8 steps. Here is how you achieve that.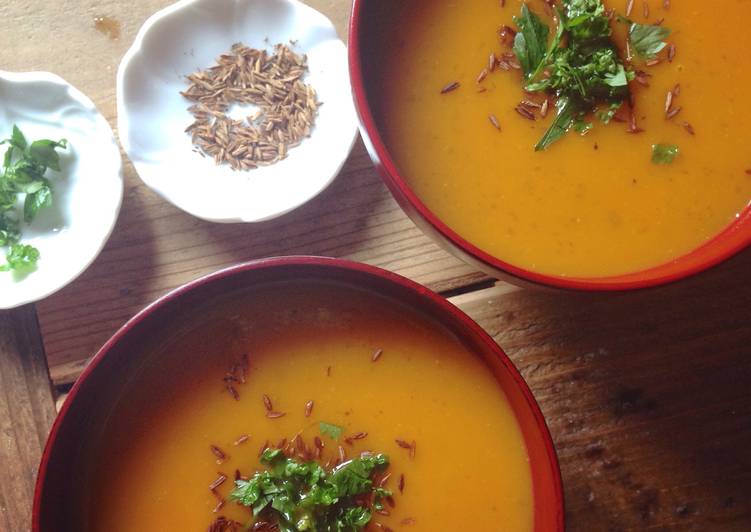 Ingredients of Simple Butternut Squash Soup
Prepare 1 of small butternut squash or 1/2 large one (500 g).
You need 1 of small onion.
It's 1 Tbsp of butter or olive oil.
Prepare 500 ml of broth (I use vegetable or Kombu broth).
It's 1/2 tsp of salt (if using unsalted broth).
It's of optional garnish: chopped parsley and/or toasted cumin seeds.
Simple Butternut Squash Soup Instructions
This is the size butternut squash I used. It was 500 g (450 g after peeled and seeds removed).
Peel butternut squash and remove seeds. Chop into bite-sized cubes. Cut onion into thin slices.
Melt butter in a medium pot and sauté sliced onions in low heat until starting to turn slightly brown (about 7-10 minutes).
Add the butternut squash to the pot and stir around to coat with the butter and onions.
Pour in enough broth to cover everything (about 450-500 ml). If using unsalted broth, add 1/2 tsp salt too.
Bring to a boil then turn to low heat. Cover with lid and simmer for about 15 minutes until squash is soft.
Turn off heat and purée the soup with a mixer. If you don't have a mixer of some sort, try mashing it up as much as possible with a fork (it will be a chunky soup this way). Taste and adjust seasoning.
Dish out into bowls and garnish with some chopped parsley and or toasted cumin! (To toast cumin, simply heat about 1/2 tsp in a dry frying pan for a few minutes until it smells good. Be careful not to burn).