Roasted Butternut Squash and Kale Soup – This recipe is perfect for when you have no idea what to cook. You can have Roasted Butternut Squash and Kale Soup using 10 ingredients and 6 steps. Here is how you cook it.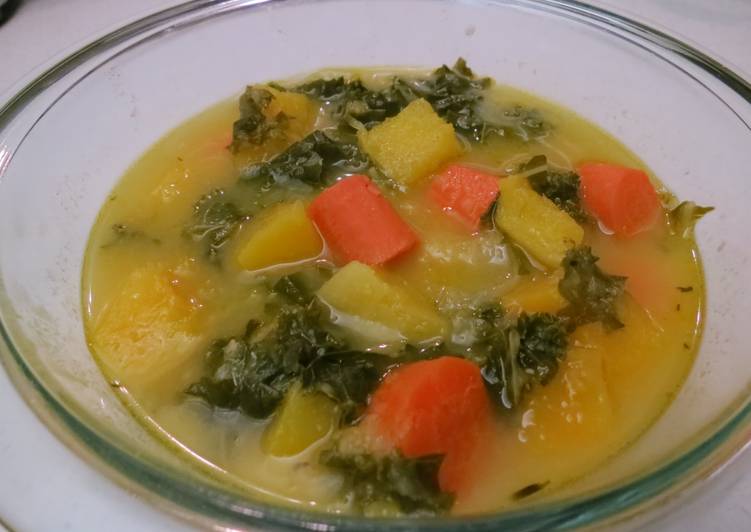 Ingredients of Roasted Butternut Squash and Kale Soup
You need 3 of Carrots Medium , peeled.
You need quartered 2 of Tomatoes Large ,.
It's 8 wedges of Onion Large , cut into 1.
Prepare 1/2 of Butternut Squash , peeled and seeded.
You need 6 Cloves of Garlic , peeled.
You need 6 Cups of Chicken Vegetable Broth or.
It's 4 Cups of Kale , chopped.
You need 3 Sprigs of Thyme Fresh.
It's 2 of Bay Leaf.
It's of Olive Oil.
Roasted Butternut Squash and Kale Soup Step By Step
Preheat oven to 400 degrees. Brush a baking pan or sheet with a thin coat of olive oil. Chop the carrots and butternut squash into 1/2 inch pieces.
Place the carrots, squash, tomatoes, onion, and garlic in the baking pan. Drizzle with more olive oil and sprinkle with salt and pepper. Toss the vegetables to coat them with the oil, salt and pepper.
Roast the vegetables for about 45 min – 1 hour, until they are brown and tender. Stir occasionally.
Remove the garlic, tomato, and onion from the pan. Place in a blender or food processor and puree until smooth.
Add the broth to the pot, along with the puree. Add the bay leaves, thyme, and kale. Bring to a boil, then reduce the heat and simmer uncovered until the kale is tender, about 30 min.
Add the carrots and squash to the soup. Simmer for about 10 – 15 min, adding more broth if necessary. Add salt and pepper to taste. Serve and enjoy!