Keralan Style Prawns – This recipe is best for when you have no idea what to cook. You can cook Keralan Style Prawns using 9 ingredients and 6 steps. Here is how you achieve that.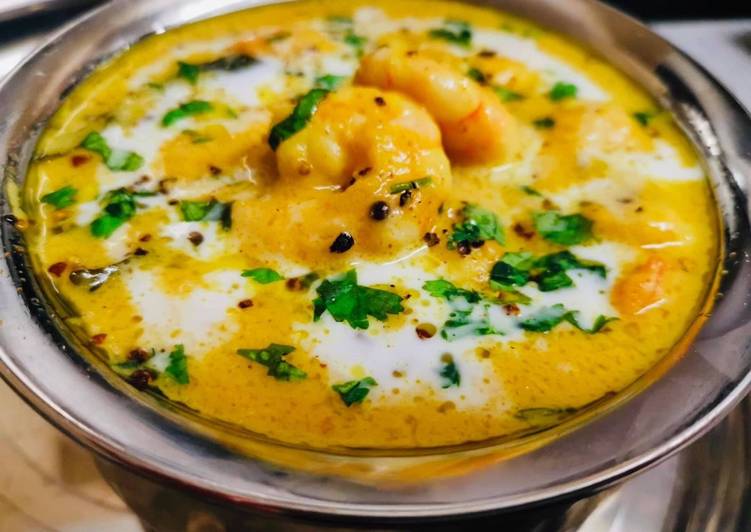 Ingredients of Keralan Style Prawns
It's 250 G of raw king prawns (Deveined).
Prepare 10 of fresh curry leaves.
Prepare 1 of large onion.
You need 2 tbsp of garlic ginger paste.
You need 2 Tbsp of black mustard seeds.
Prepare to taste of Salt.
Prepare 1/2 Tsp of turmeric.
You need 25 ml of full fat coconut milk.
It's 1 of dry red chilli or to taste.
Keralan Style Prawns Step By Step
Peel and devein the prawns
Cut the onions into quarters and boil them, then blend to make a paste.
Heat some coconut oil in a pan and add the mustard seeds and the dry red chilli until they begin to pop, add the curry leaves and fry for a few seconds, add the onion paste and cook really well until it begins to loose its moisture
Then add salt and the garlic and ginger paste and fry really well, then add the turmeric and continue to cook for a few seconds
Add the prawns and cook for 10 to 20 seconds until they just begin to colour then add the coconut milk slowly (add a little at a time until you have the desired quantity of sauce)
Cover and cook on a really low heat until the prawns are cooked through serve with a little extra coconut milk drizzled over, garnish with coriander and serve with your choice of rice