Malabar Prawn Curry – This recipe is fantastic for when you have no idea what to cook. You can cook Malabar Prawn Curry using 20 ingredients and 3 steps. Here is how you achieve that.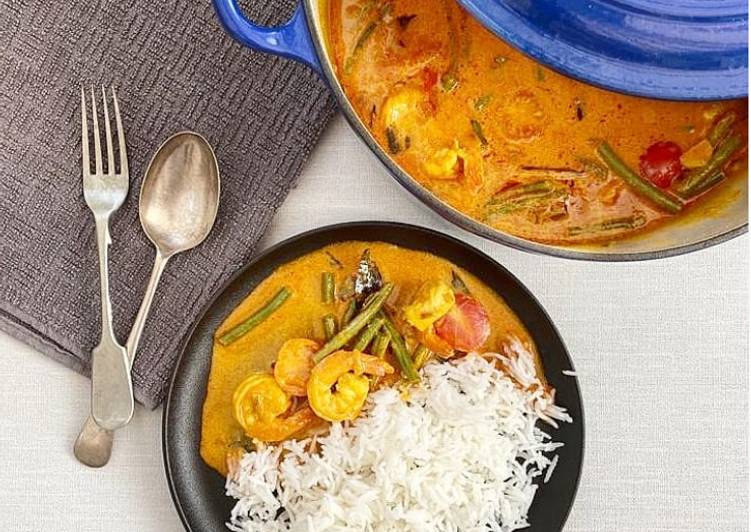 Ingredients of Malabar Prawn Curry
Prepare 300 grams of king prawns, peeled, leave the tail intact, deveined and washed.
It's 2 tbsp of vegetable oil.
You need 1 tsp of black mustard seeds.
Prepare 1/2 tsp of fenugreek seeds.
Prepare 1/4 tsp of each fennel and cumin seeds.
It's 1 of small onion, chopped.
You need 1 of green chilli slit lengthwise.
It's 2 stalks of curry leaves.
Prepare 4 of garlic cloves, sliced.
You need 1 cm of ginger, sliced.
Prepare of Curry mix.
Prepare 2 tbsp of @sainsburys medium curry powder or any curry powder.
You need 1 tbsp of mild chilli powder.
Prepare 1 tsp of turmeric powder.
You need 200 grams of french beans.
Prepare 5 of cherry tomatoes, halved.
It's 150 mls of water.
Prepare 200 ml of coconut milk.
Prepare to taste of Salt.
Prepare of Coriander for garnish.
Malabar Prawn Curry Instructions
Heat the oil in a heavy saucepan on medium heat. Add the mustard seeds and let them splutter. Now add curry leaves, fenugreek, cumin and fennel seeds. Saute for 1 min. Add the chopped onion garlic and ginger and saute till softened.
Add the curry spices and fry for a further 10 seconds making sure it doesn't burn. Add the 150ml of water and salt. Bring to boil then add in the coconut milk..
Add the green beans and continue to cook for 3 minutes. Add the prawns and tomatoes and cook over low heat for 6-7 minutes. Turn the heat and stir in the coriander leaves. Serve with white rice.