Sig's Soup Splash – This recipe is great for when you have no idea what to cook. You can have Sig's Soup Splash using 14 ingredients and 6 steps. Here is how you achieve that.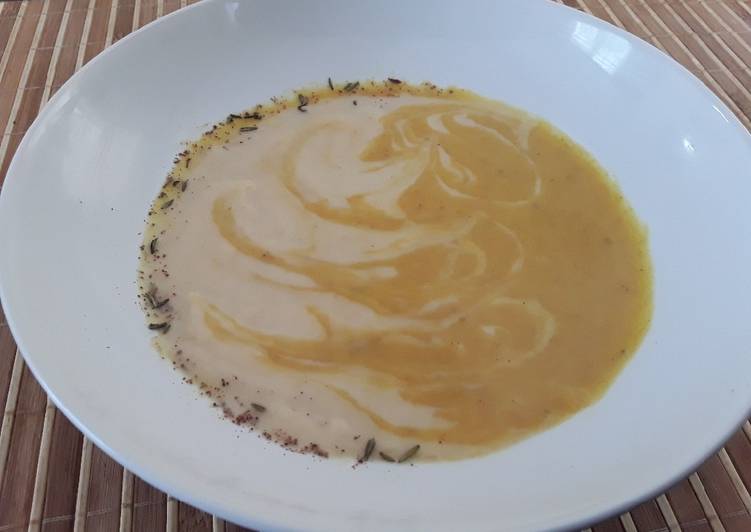 Ingredients of Sig's Soup Splash
Prepare 2 of small or one large celeriac.
Prepare 1 of medium butternut squash.
Prepare 1 of white onion.
It's 2 of medium potatoes.
Prepare 2 of leafs of bay.
It's 4 cloves of smoked garlic, crushed.
You need 1/4 teaspoon of pimento seeds.
It's 4 of vegetable stock cubes.
You need 150 gr of cubed pancetta or a couple tablespoons butter.
Prepare of Pepper, sumac,turmeric, thyme to taste and.
Prepare of Soft brown sugar to taste for butternut squash soup.
You need of Salt, thyme, pepper to taste for celeriac soup.
It's 1 of lt water.
It's 100 ml of double cream.
Sig's Soup Splash Instructions
Chop the onions, separate into two halves. Either melt the butter or cook the pancetta with the onions in two pans, heat through. Chop both the celeriac and butternut squash but keep them separate. Chop potatoes. Make one pan with butternut and one with celeriac with these same basic ingredients.
Add thyme, bay leaf, stock cubes, garlic to both pans in equal amounts.add 500 ml of water to each pan. Simmer the two pans until vegetables are soft in each one of them. Cool down. Break down with a potato masher.
Soup mashed down
Blend in a blender into a fine soup, the celeriac soup is slightly thicker then the butternut squash soup. Add about 25 ml cream to each soup stir in well.
First ladle the thinner soup into a soup bowl then carefully add the thicker soup on one of the sides. Now take a toothpick or knitting needle and create a pattern by pulling them through the soup. These particular soups go well together when combined. You can add more cream as on the left or fresh beet juice to add extra colour.
I have other soup combinations under my recipes, take a look if you like.