Crispy prawn rice paper spring roll – This recipe is perfect for when you have no idea what to cook. You can have Crispy prawn rice paper spring roll using 9 ingredients and 4 steps. Here is how you cook it.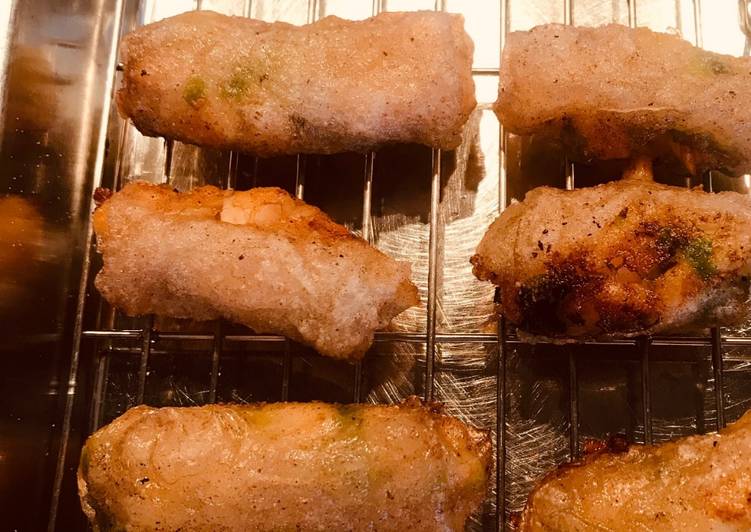 Ingredients of Crispy prawn rice paper spring roll
You need 300 g of raw prawns.
You need 6 sheets of Vietnamese rice paper.
You need 4 sticks of spring onion (chopped).
Prepare 30 g of ginger(chopped or grated).
You need 1 tsp of salt.
Prepare of pepper.
It's 2 tbsp of potato powder.
You need 2 tbsp of water.
Prepare of roasted sesame seed oil, flying oil.
Crispy prawn rice paper spring roll Step By Step
Soften the rice paper, per instruction on the packet. I also recommend placing each sheet in between a clean wet tea towel and let it sit while you prep the filling.
Chop the prawn 1cm width. Sautee in a small pan with sesame seed oil till they turn red. Add 70ml of water, cook for 5 minutes then drain the prawn. Keep 50 ml of the soup!
Use the same pan to heat 2 tbsp of sesame oil and sautee the spring onion and ginger. As the aroma rises, add back the prawn then the soup. Flavor with salt and pepper. Add the mixture of potato flour and water to give thickness to the soup.
Take one sheet of softened rice paper on a cutting board and cut in half. Place the straight edge in front of you and set the filling in centre, closer to the edge. Fold both sides in and roll! Fly briefly in mid – high heat till the outer is crispy.